As we look ahead to the September 28th launch of Good Comes First, we invite you to join our Ambassador Team! And not a moment too soon as Good Comes First is getting real:
In addition to Amazon, Good Comes First will be featured online at BAM! (Books-a-Million), B&N, and many other online stores.
We've confirmed the book will be available in retail outlets of all sizes — from Barnes & Nobles to Powell's and Harvard Book Store
A non-fiction author's dream, Good Comes First will be sold in airport bookstores like Hudson Booksellers
Our publisher is creating an audio version as we speak (Audible version coming soon!)
Next up: International publishing rights
Just as business leaders attempt to design their back-to-work strategies (and create an employee mass exodus in the process), you can help us make an even bigger impact.
Please consider joining our Good Comes First Ambassador Team. The commitment is minimal but oh-so-helpful.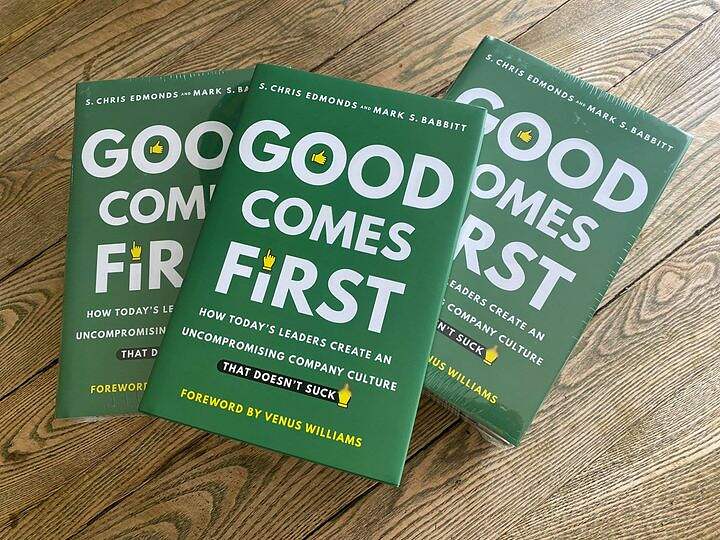 On September 28th, submit an all-important review of Good Comes First to Amazon.

Promote Good Comes First via social media during launch week (September 28 to October 1) using the hashtag #GoodComesFirst.
As a thank you, each member of our Ambassador Team will receive:
Immediate access to a digital copy of Good Comes First (several weeks before it is available to the general public)
A hardcover copy of Good Comes First, signed by us
An invitation to join an "Ask Us Anything" webinar the week of September 14th
For launch week, access to cut-and-paste copy for social sharing
Our undying gratitude!
Ready to join the Good Comes First Ambassador Team? Click on the button below! Once you've confirmed your subscription, you'll be sent a PDF of the book!